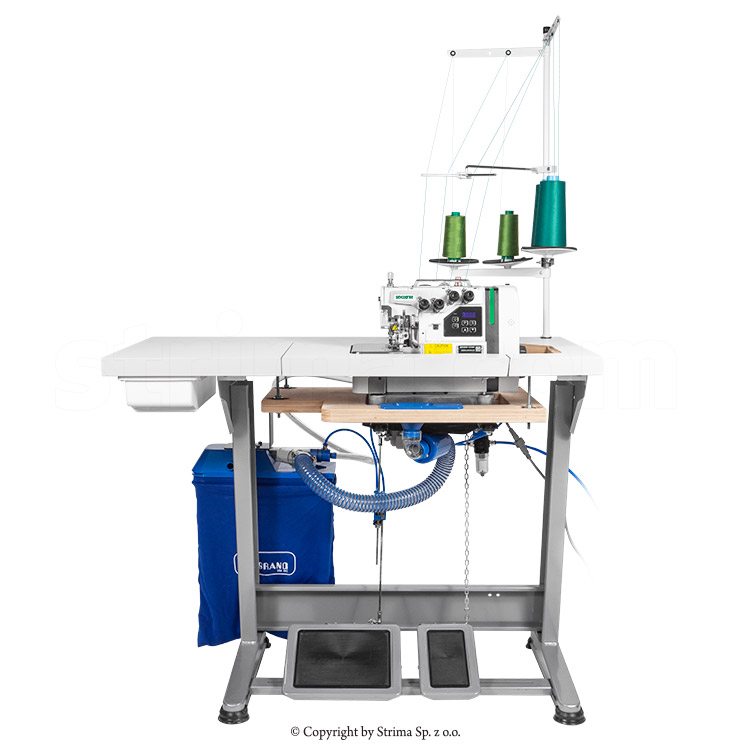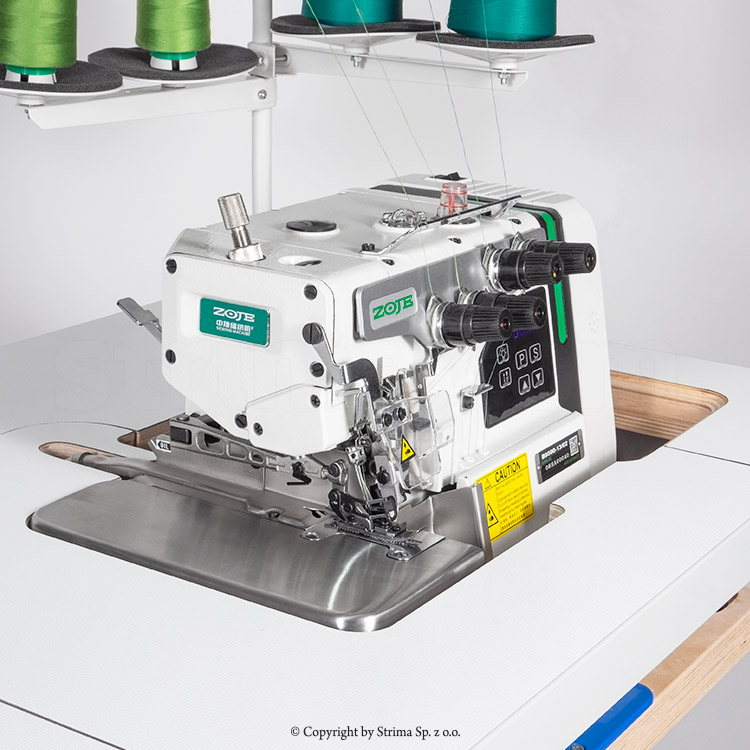 ZOJE B9500-13-02 SET + TZ 10021442
2-needle, 4-thread, mechatronic overlock machine with needles positioning and pneumatic horizontal type chain cutter - complete sewing machine
Description:
ZOJE ZJ-B9500-13-02 SET
2-needle / 4-thread overlock machine for light and medium materials with pneumatic chain cutter integrated with pneumatic suction device. Efficient, quiet and fast.
Now with energy-saving AC Servo motor, control box and power switch integrated into machine head (mechatronics "all-in-one" set). AC Servo motor saves up to 70% Energy comparing to a conventional electronic motor or clutch motor. Ensures quiet work without adverse vibration.

Main features:
- needles gauge 2 mm,
- seam width 6 mm,
- max. sewing speed 7.000 s.p.m.,
- differential bottom feed,
- horizontal pneumatic type chain cutter,
- pneumatic suction device,
- central lubrication.

A compressed air connection is required for this overlock to function properly.

Complete sewing machine with Kessler stand and table top.

For this machine we recommend SCHMETZ needles system B-27 with correct needle points, depending on the fabric.

The photo shows the machine recessed into the table top. Currently, the machine is mounted on the table top.

Technical specification:
| | |
| --- | --- |
| Type of sewing material | light, medium |
| Built-in motor (direct drive) | yes |
| Number of threads | 4 |
| Automatic needle positioning | yes |
| Automatic thread trimming | – |
| Automatic foot lifter | – |
| Automatic bartacking | – |
| Overedging width | – |
| Total seam width | 6 mm |
| Top feed | no |
| Presser foot lift height | 6 mm |
| Max. sewing speed | – |
| Needle system | B-27 |
| Kit | complete set |