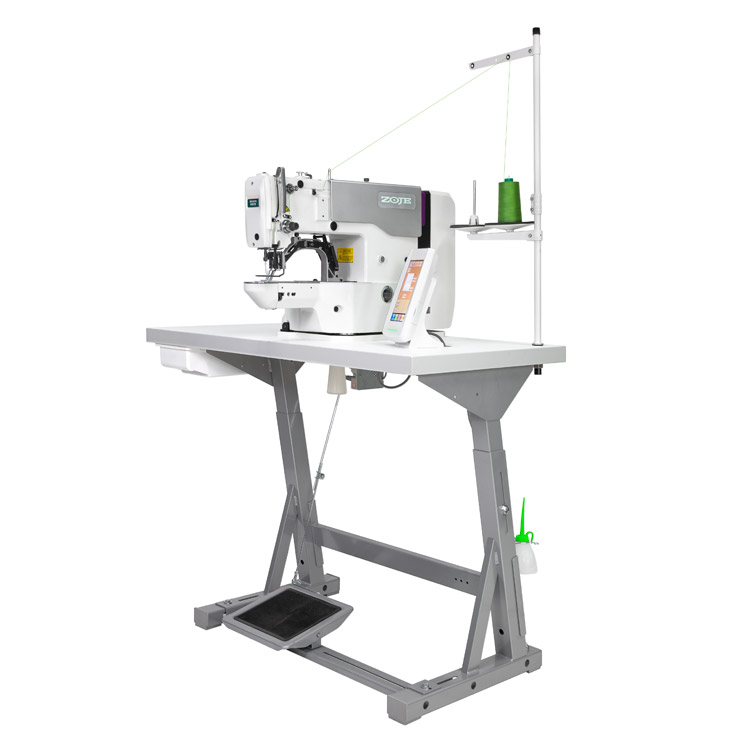 ZOJE ZJ1900DHS-3-04-V4-TP SET
Automatic bartacking machine for heavy fabrics - complete sewing machine
Description:
Bartacking machine ZJ1900DHS-3-04-V4-TP SET is 1-needle, industrial sewing machine designed for sewing heavy materials. Bartacking machine has 15 pre-programmed stitches and bartack programming functions.


Industrial bartacking machine
ZJ1900DHS-3-04-V4-TP SET
is a
professional sewing machine
sewing with
a maximum speed of 3000 stitches per minute.
The machine is equipped with a number of automatic functions:
automatic needle positioning, automatic thread cutting, automatic presser foot lift
(13-17 mm) and
automatic thread deflector
.
Sewing machine
with central lubrication system
.
Automatic bartacker
Bartacking machine
ZJ1900DHS-3-04-V4-TP SET
is standard
equipped with a 20 x 4.5 mm buckle
, which allows you to get
a 18 mm bartack
and use
15 preset patterns
. The use of clamps available as an option - 21x5.1 mm, 27x5 mm, 10x4.5 mm, 5.6x23 mm, 2x20 mm, 20x40 mm - allows you to use the programmed
100 patterns of bartack and stitching.
Modern sewing machine
The bartacking machine
ZJ1900DHS-3-04-V4-TP SET
was equipped with an energy-saving AC SERVO motor. The control box and the motor are built into the head. The machine has a
modern touch panel
that allows for quick
access to sewing parameters and saved patterns
. The touch control panel allows you to easily create your own bolt and stitching valves.
Bartacking machineZJ1900DHS-3-04-V4-TP SET
is a complete
sewing machine
on a Kessler stand and table.
For
bartacking machine
Zoje ZJ1900DHS-3-04-V4-TP SET we recommend
SCHMETZ system needles
135x5 or 135x5 SERV7
, with points matched to the fabric being sewn.
Technical specification:
| | |
| --- | --- |
| Type of sewing material | medium, heavy |
| Standard clamp size | 20 x 4.5 mm |
| Max. bartack size (standard clamp) | 18 x 4 mm |
| Bartacking patterns (standard clamp) | 15 |
| LED lighting of working field | yes |
| Max. sewing speed | 3000 s.p.m. |
| Needle system | 135X5 |
| Bartacking patterns (after changing clamp) | 100 |
| Kit | complete set |