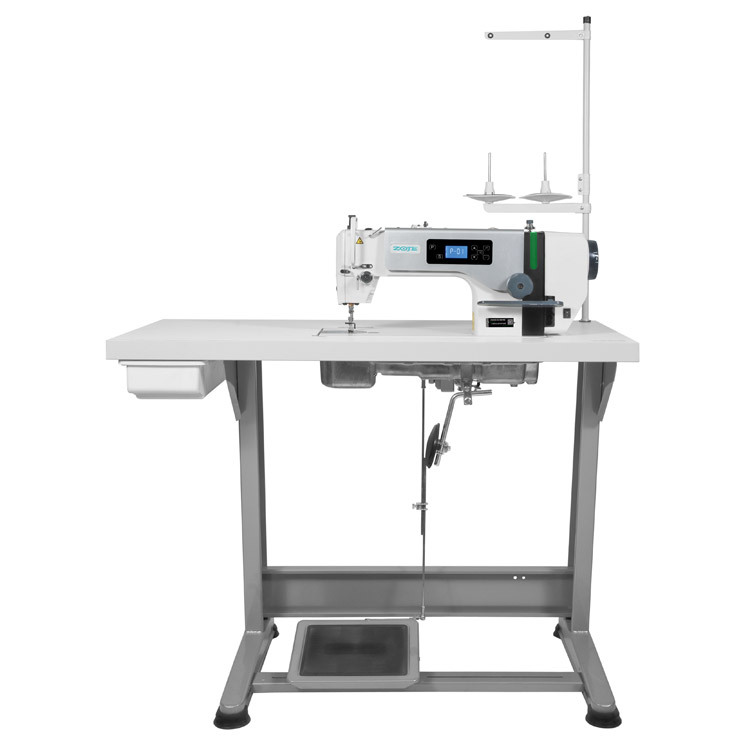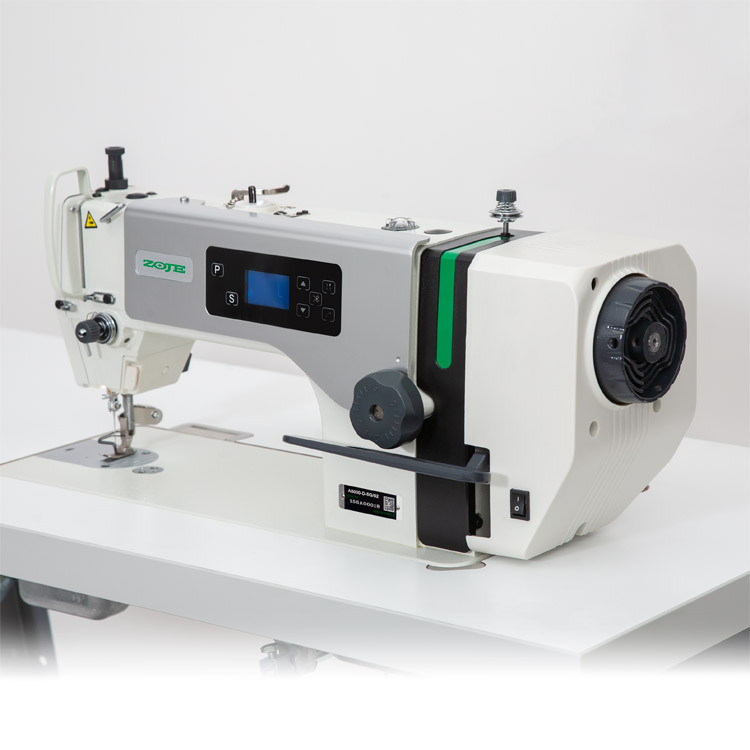 ZOJE A6000-D-5-G-02 SET
1-needle mechatronic lockstitch machine for medium and heavy materials - complete sewing machine
Description:
ZOJE A6000-D-5-G-02 is 1-needle industrial lockstitch with bottom feed, automatic needle positioning and thread trimmer and control panel. b>


ZOJE industrial one needle lockstitch machine
A6000-D-5-G-02 is a modern sewing machine for thick and medium materials. The maximum sewing speed is 4500 stitches / min , the maximum stitch length is 5 mm , the maximum presser foot lift is 13 mm . The standard equipment of the lockstitch machine has automatic thread cutting. Machine with central lubrication system.


The latest generation industrial lockstitch machine
ZOJE A6000-D-5-G-02 is an energy-saving sewing machine with AC SERVO motor, control built into the head and direct drive needle bar. A modern engine saves up to 70% of energy and guarantees quiet operation of the machine. Efficient fan ensures optimal cooling and ensures efficient heat dissipation during long hours of operation. Modern touch panel provides easy access to sewing parameters. Lockstitch machine ZOJE A6000-D-5-G-02 also has built-in energy-saving LED lighting for the work area.

For this machine we recommend SCHMETZ needles system 135x5 or 135x5 SERV7, with appropriate tips, depending on the type of sewn fabric.

A complete sewing machine, on the stand and PREMIUM tabletop of the renowned Kessler brand. The highest quality table top made of 30-layer birch plywood guarantees long life and resistance to working conditions. Covered with structural laminate with increased resistance to impact and abrasion.

Technical specification:
| | |
| --- | --- |
| Type of sewing material | medium, heavy |
| Type of feed | bottom |
| Automatic needle positioning | yes |
| Automatic thread trimming | yes |
| Automatic foot lifter | no |
| Automatic bartacking | no |
| Wiper | no |
| Stitch compensation button | no |
| Type of lubrication | central circuit |
| Side trimmer | no |
| LED lighting of working field | yes |
| Max. stitch length | 5.0 mm |
| Presser foot lift height | 13 mm |
| Max. sewing speed | 4500 s.p.m. |
| Built-in AC Servo motor | yes |
| Needle system | 135X5 |
| Kit | complete set |