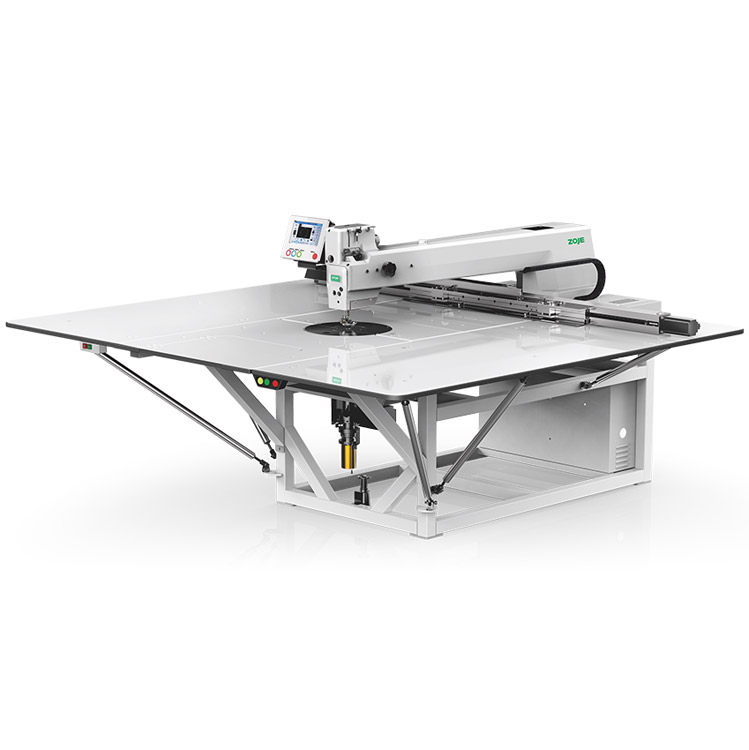 ZOJE ZJ-M8-S900H-SF-V2 SET
Pattern sewing machine with rotary needle bar.
Description:
ZOJE M8-S900H-SF-V2 is an automatic sewing machine with a large work area that features a 360-degree rotary needle bar. It is an ideal solution for car upholsterers and companies working with leather and imitation leather. It works great for demanding sewing, which in addition to straight sections includes arcs and circles.

M8 is a complete machine with a work area of 130 x 90 cm, equipped with an electronic system with a large LCD panel, which allows you to create and operate hundreds of sewing patterns and customize their individual parameters for different materials. The rotary hook offered by this model enables almost instantaneous circle creation and very precise sewing on arcs.

It is standardly equipped with automatic thread cutting and a stitch starter controller (clean sewing start), which will pull the thread under the element, leaving a perfectly clean stitch without any additional threads in its upper part.

ZOJE M8-S900H-SF-V2 has a rotary big hook designed for large 26 mm bobbins, which significantly extends the number of stitches embroidered without changing the bobbin. The maximum stitch length is up to 12.7 mm. The thread breakage sensor integrated with the upper threading section automatically stops sewing in case of a lack of thread, and the system allows you to precisely return the process by a given number of stitches so that even in the event of thread breakage, not a single one is missed.

Complicated patterns can be created using a computer using the PDS software included in the set or other compatible software and transmitted to the device via USB communication. The pattern supports many file formats: NSP, VDTD, VDT, DXF, and DST. The default for this series of devices is NSP. Patterns composed of the device's LCD panel can be saved in USB memory and transferred to other machines, so designing a pattern does not have to be repeated every time on other machines.

The machine is constructed on a solid metal base equipped with wheels and large worktops with reinforced construction. The worktops can be folded for transport, making it easier to move and maneuver even in smaller spaces. When folded, the dimensions are only 100 x 170 x 130 cm.

As part of the set with the machine, the customer receives a high-quality aluminum frame ready for pinning materials with dimensions of 70 cm x 70 cm.

Technical specification:
| | |
| --- | --- |
| Type of sewing material | medium, heavy, very heavy and leather |
| Sewing area (in millimeters) | 1300x900 mm |
| Automatic thread trimming | yes |
| Wiper | no |
| LED lighting of working field | yes |
| Max. stitch length | 12.7 mm |
| Max. sewing speed | 3000 s.p.m. |
| Needle system | 135X5 |
| Kit | complete set |