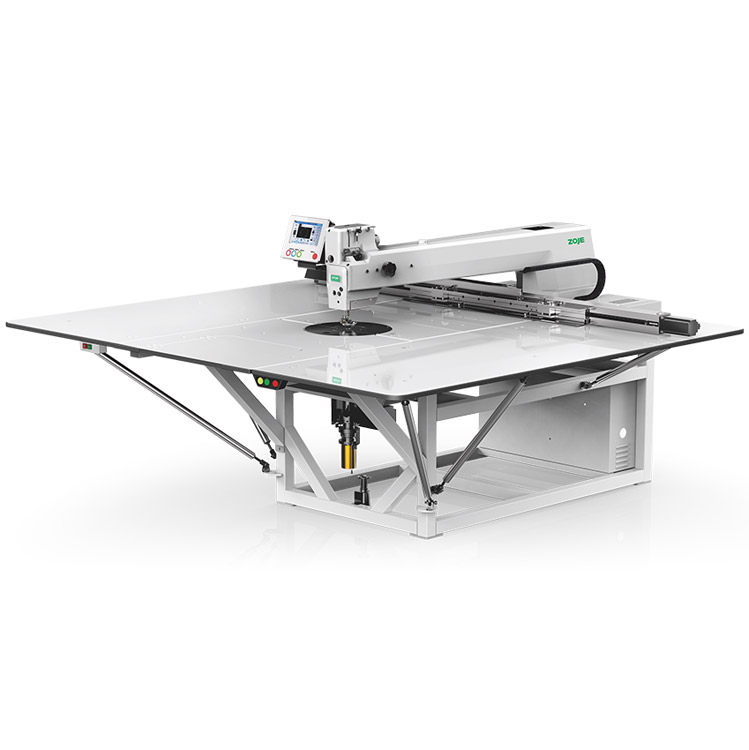 ZOJE ZJ-M8-S900H-SF-V2 SET
Pattern sewing machine with rotary needle bar.
Description:
The ZOJE M8-S900H-SF-V2 machine is an ideal solution for car upholsterers or companies that work with leather and artificial leather. Perfect for sewing decorative and contrasting stitches.

Specification (width, length, height):
• Crate: 120 x 230 x 150 cm
• Before assembling 100 x 170 x 130 cm
• After assembling: 210 x 245 x 130 cm
• Working area: 130 x 90 cm
• Two times large hook
• Bobbin diam.: 26 mm
• Max. thread thickness: 40 (upper / per needle)

Standard equipment of the machine
• PDS - software for creating patterns for the PC
• USB with manual spare parts list
• Electric bobbin winder
• Mounting accesories and set of the necessary keys
• 2 additional pressure "cups"
• Thread stand
• Oil + oiler
• Needle plate with a larger hole
Standard machine configured with needles 135x5,
• machine in "S" version - belt drive in the X-axis and screw drive in the Y-axis.

Technical specification:
| | |
| --- | --- |
| Type of sewing material | – |
| Sewing area | – |
| Automatic thread trimming | – |
| Wiper | – |
| LED lighting of working field | – |
| Max. stitch length | – |
| Max. sewing speed | – |
| Built-in AC Servo motor | – |
| Needle system | – |
| Kit | – |