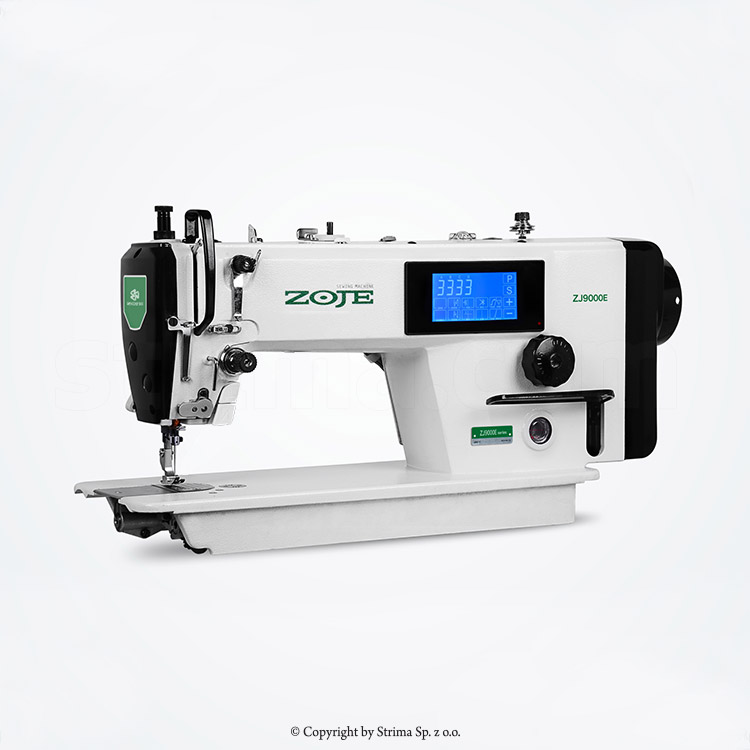 ZOJE ZJ9000E-D4S-TP-02
Automatic, mechatronic lockstitch machine with touch screen panel and closed lubrication circuit - machine head
Description:
Mechatronic with touch screen panel, automatic, 1-needle lockstitch machine for light and medium materials.

Now equipped with innovative closed lubrication system divided into two sections - first one lubricate hook and have special oil detector that makes sound signal when the oil runs low. Other section lubricate the moving parts, except for dry needle bar protected by PTFE.

Machine is serial equipped with automatic functions:
- needle positioning,
- thread trimmer - in this model you can get even 3 mm cut of lower thread (standard 5 mm),
- electromagnetic foot lifting - pedal and knee lifter (up to 9 mm, and with use of knee lifter to 13 mm),
- reverse feeding with programmed size of the initial and final bartack,
- programmable sewing sections,
- controller of initial stitch,

USB plug included - to be used for battery charging (smartphones and tablets)

Integrated 3 degrees adjustable brightness energy-saving LED lamp for lighting of working field.

Model with energy-saving AC Servo motor, control box, programming control panel and power switch integrated into machine head (mechatronic "all-in-one" set). Thanks to integration of all elements the machine works quietly and without adverse vibrations.
AC Servo motor saves up to 70% energy comparing to a conventional electronic motor or clutch motor.

Bottom feed, max sewing speed 5000 s.p.m., max. stitch length 5 mm. Modern cooling system of motor and control module.

For this machine we recommend SCHMETZ needles system 135x5 or 135x5 SERV7, with correct needle points, depending on the fabric.

Check the sets with table top and stand.

Technical specification:
| | |
| --- | --- |
| Type of sewing material | light, medium |
| Type of feed | bottom |
| Automatic needle positioning | yes |
| Automatic thread trimming | yes |
| Automatic foot lifter | yes |
| Automatic bartacking | yes |
| Wiper | no |
| Stitch compensation button | yes |
| Type of lubrication | closed "dry" circuit |
| Side trimmer | no |
| LED lighting of working field | yes |
| Max. stitch length | 5.0 mm |
| Presser foot lift height | 13 mm |
| Max. sewing speed | 5000 s.p.m. |
| Built-in AC Servo motor | yes |
| Needle system | 135X5 |
| Kit | head |