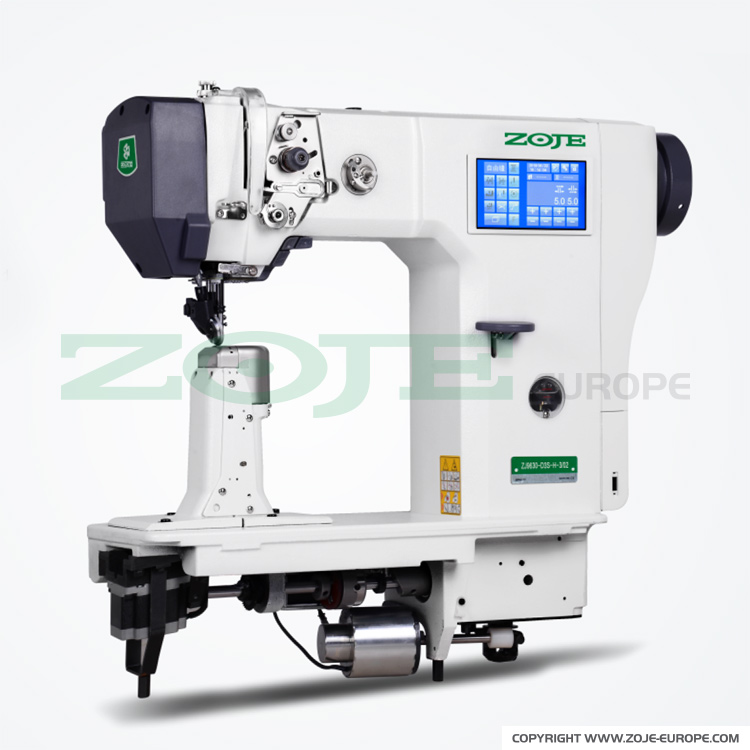 ZOJE ZJ9630-D3-H-3/02 SET
Post-bed, mechatronic lockstitch machine with bottom, needle and upper roller feed, with built in motor and control box - complete
Description:
1-needle post-bed lockstitch machine with bottom roller feed, needle feed and active roll presser foot (roll on the left side of the needle). For sewing medium and thick fabrics.
Machine with built-in energy-saving AC Servo motor and control box (mechatronic), with automatic needle positioning (top - bottom). AC Servo motor saves up to 70% energy comparing to a conventional electronic motor or clutch motor. Ensures quiet work without adverse vibration.

Designed for sewing in hard to get places in production of sports and leather shoes, fancy leather goods etc. Equipped with energy-saving LED lamp for lighting of working field.

Max. sewing speed 3.000 s.p.m., max. stitch length 5 mm, foot lifting up to 8 mm (hand lifter), post height 17 cm, central lubrication.

Complete sewing machine with Kessler stand and table top.

For this machine we recommend SCHMETZ needles system 135x5 or 135x5 SERV7, with correct needle points, depending on the fabric.

Technical specification:
| | |
| --- | --- |
| Type of sewing material | medium, heavy |
| Type of feed | bottom, needle, roller |
| Automatic needle positioning | yes |
| Automatic thread trimming | – |
| Automatic foot lifter | – |
| Automatic bartacking | – |
| LED lighting of working field | – |
| Max. stitch length | 5.0 mm |
| Presser foot lift height | 8 mm |
| Max. sewing speed | 3000 s.p.m. |
| Built-in AC Servo motor | – |
| Needle system | 135X5 |
| Post height | 17 cm |
| Kit | complete set |