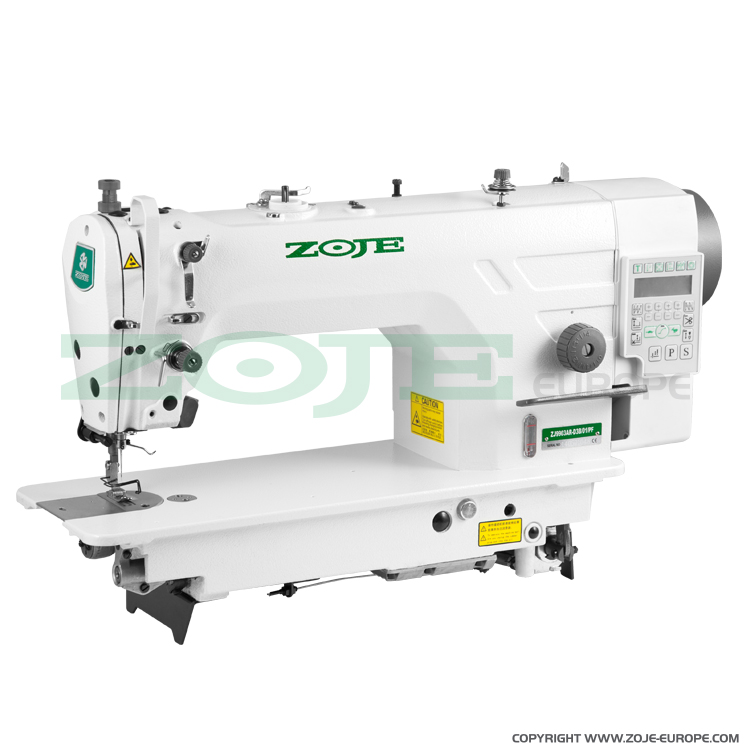 ZOJE ZJ9903AR-D3B/PF
Automatic lockstitch machine, needle feed, light and medium materials, with built-in AC Servo motor and control box, closed lubrication circuit - head
Description:
Universal 1-needle lockstitch machine, needle feed, for light and medium materials. Serial equipped with automatic functions: thread trimmer, reverse feeding with programmed size of the initial and final bartack, foot lifter, needle positioning, wiper, programming control panel and integrated 3-degree, energy-saving LED lamp for lighting of working field. Machine with increased sewing field (distance between needle bar and machine's arm is 30 cm) and closed, shortened lubrication circuit (dry needle bar) which effectively prevents fabric staining during sewing.


Model with energy-saving AC Servo motor, control box, programming control panel and power switch integrated into machine head (mechatronic "all-in-one" set). Thanks to integration of all elements the machine works quietly and without adverse vibrations. AC Servo motor saves up to 70% energy comparing to a conventional electronic motor or clutch motor. Equipped with vortex fan which sucks the external air and ensures more efficient cooling.
Bottom feed and needle feed (eliminates a problem with shifting of fabric layers to each other - especially when sewing long elements). Max. sewing speed 4.000 s.p.m., max. stitch length 4 mm, foot lifting up to 13 mm.
For this machine we recommend SCHMETZ needles system 135x5 or 135x5 SERV7, with correct needle points, depending on the fabric.
Technical specification:
| | |
| --- | --- |
| Type of sewing material | medium, heavy |
| Type of feed | bottom, needle |
| Automatic needle positioning | yes |
| Automatic thread trimming | yes |
| Automatic foot lifter | yes |
| Automatic bartacking | yes |
| Wiper | yes |
| Stitch compensation button | no |
| Type of lubrication | closed "dry" circuit |
| Side trimmer | no |
| LED lighting of working field | yes |
| Max. stitch length | 4.0 mm |
| Presser foot lift height | 13 mm |
| Max. sewing speed | 4000 s.p.m. |
| Built-in AC Servo motor | yes |
| Needle system | 135X5 |
| Kit | head with built-in Servo motor and programming control panel |